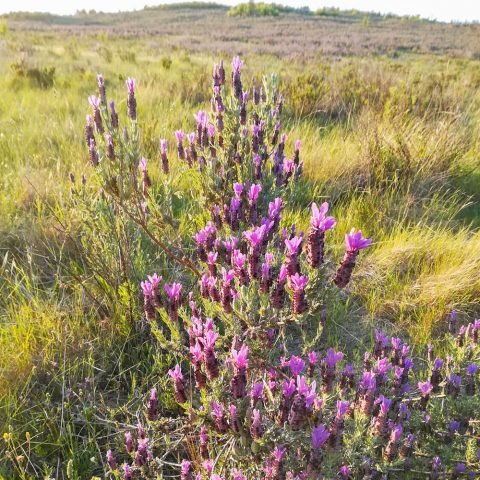 Taste is everything! Wild herbs from the Mato, flowers and citrus flavors are the! Pleasure extras for your kitchen and health.
The dry overgrown slopes, called macchia in Italy, are called the mato here in Portugal. Ask an Alentejano about the value of mato and he will tell you about cortiza (cork extraction) and medronho (a fruit brandy made from the berries of the strawberry tree). But here you can also find a variety of aromatic and medicinal wild herbs … not least the paint rockrose.
In the past, lacquer rock roses were said to be so rare that people here stole from each other for them. The hard shoots are considered the best kindling wood. It has since spread to the point where it is fueling mostly brush fires. However, the most valuable thing about the paint rockrose are the young shoots and fragrant, tart-tasting flowers. The young shoots yield a resinous substance called ladanum. Ladanum, like frankincense, can be used as a fragrance and as a remedy. The taste of the flowers is reminiscent of black tea. However, unlike black tea, they have a high content of antioxidants. We offer the flowers already from the coming harvest dried and as cistus honey essence.
We already use a Ladanum massage oil privately with good success to treat scratches and muscle aches from work. With the first olive harvest, we would also like to put this Ladanum oil on sale.
And there grows much more … lavender, fennel, mountain gray, wild leek, clebalant, mint, damask roses, Spanish oyster. The Mato is full of flavors that we want to bring to the glass together with our olives and olive oil Azeite Extra Virgem. Behind the scenes, we are therefore also working on the recipes for a rose-honey essence, wild fennel pesto, table olives with clebalant tips and other fragrant-aromatic gems for your kitchen and health.
Then, in a few years, when we have the first harvests from our citrus orchard available, our offer will grow again. Pomeranians, yuzus, ponkans, trefoil oranges and other special citrus fruits will then enrich our compositions. We are already looking forward to that.
We'll tell you more about wild herbs and their uses in our blog. And as soon as there is something new to report about our products, you will find out about it via our newsletter (published at irregular intervals).