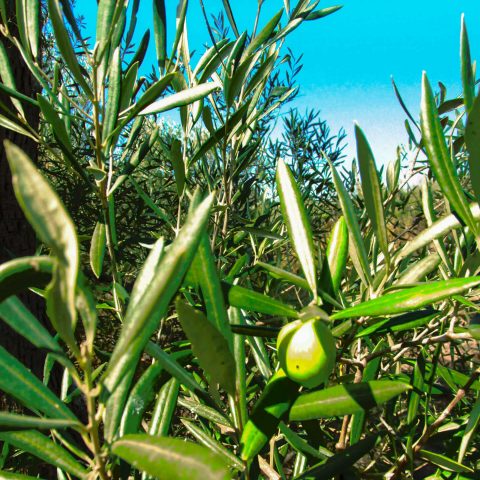 Dry hot summers, large temperature differences and mineral-rich red earth – this is the basis for our olive oil Azeite Extra Virgem.
Pure, as herb oil or together with our table olives.
Our olive oil Azeite Extra Virgem
Olive growing in the Baixo Alentejo is characterized by the dry hot summers, the temperature differences between day and night and the mineral-rich red earth soils. These are challenging, but ultimately very good conditions for fruity, intense olive oils and aromatic table olives.
Our entire herd is managed according to the principles of organic farming. A species-rich wildflower community and support crops thrive in the areas between the olive trees. The rows of trees are consistently mulched and watered sparingly. This form of cultivation optimally supports the formation of aromas.
We have about 10 hectares (about 4,000 trees) of olives of the varieties Galega and Manzanilla. In order to be able to press the olives within a few hours after harvesting, we will soon invest in our own oil press.
The result of our efforts will be a wonderfully aromatic olive oil, obtained exclusively with mechanical processes and exclusively from olives of our Herdade without mixtures with oils of other origins.
By the way, the previous owner has already won international awards with the olive oil of this herdade. So it's worth staying tuned.
Our table olives
For our table olives we use olives of the Galega variety.
Our galegas come in three levels of maturity:

Azeitonas britas (green bruised olives) – the first table olives in autumn for those who are already eagerly awaiting the new harvest and for those who like particularly mild olives; for this traditional preparation, the olives are bruised and debittered with water, salted and strongly seasoned with oregano. And because we love mato herbs, these olives are also available with mato herbs and orange peel finished in olive oil. This regional specialty is available only in very limited quantities.

Azeitonas semi-maduras (semi-mature olives) – as soon as the fruit turns black, these olives are harvested. Still firm in the flesh, but already with the round flavors of the onset of ripeness and with a slight spiciness in the finish. We debitter these olives with water and salt and put them in the glass with a mixture of fresh clover tips, lemon verbena and our farm extra virgin olive oil Azeite.

Azeitonas pretas (ripe olives) – harvested fully ripe in the cool of the outgoing year, full of the aromatic richness of ripe olives. We debitter these olives in water and then leave them to ripen in brine. From March, the new crop is then ready for sale. We offer these olives in brine. To enjoy, we recommend soaking the olives for one or two days and then serving them with fresh herbs, chilies, a touch of garlic and olive oil.
Harvesting and processing of our table olives are done exclusively in our farm production by hand and with great care. Debittering and ripening is done with water and salt, without chemical processes. This gives our table olives their unmistakable intense subtle vinous aroma.
For sale, our olives are flavored with fresh herbs and citrus peel and filled into jars with farm-fresh olive oil.
The olive plantations and our project
It was already clear that we also wanted to have a few olive trees. An olive tree is more than just a tree. In the olive condenses pleasure, health and Mediterranean culture. Now, however, we have taken over a good ten hectares of olive plantations. And these plantings are in very poor condition. That, too, was not planned this way. But this opens us the wonderful opportunity to bottle our herbal preparations with farm extra virgin olive oil in the future.
Read more under olive plantations and our project.